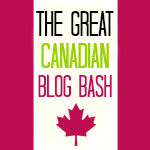 The Great Canadian Blog Bash (TGCBB) is an online party for Canadian bloggers. I'm excited to take part and find some new and exciting blogs to read.
The bash coincides with Canada Day which is coming up on July 1st. The best Canada Day I can remember was the 125th, or 21 years ago. Hold on a minute while I realize just how old I am and how long ago that was.
It's 1992. I'm 11 years old. Old enough to have some freedom and to be able to stay up easily to watch the fireworks.
My parents are involved in the city's celebrations so my brother and I are free to roam the grounds all day and night. We play games, go on rides, eat junk food, and run around for hours and hours. It's a beautiful day: perfect summer weather.
We settle in for the fireworks, the first ones I can remember, on a big hill with our friends. We ooh and aah with every loud bang, crack, and colourful display. We leave a bit later than most, exhausted but happy.
I remember asking my parents when the next big BIG Canada Day would be. They joked that it was far off, when the country celebrated 150 years. Joke's on me: that's not so far away now.
In just 4 years... I'll be back at work. The kids will be 6 and almost-8 and probably ready for a huge celebration. And I have no doubt it will be HUGE!
**
If you found this blog through The Great Canadian Blog Bash, hello and welcome! Thank you for stopping by.
I am K and this blog is about me and my life. I'm currently on leave from my job to stay home with my two kids. I like to keep busy by taking the kids out during the day (the park, groceries, the library, the museums, playdates). At night I write, I read, I watch tv, and sometimes run. And I recently started a
birth doula business
because I'm a bit of a birth junkie. You can read more
about me here
or find me on
Facebook
and
Twitter
.
In addition to this post, I have a
Canadian giveaway
happening right now so be sure to check it out. A big thanks to
McKatibel's Boutique
for partnering with me.